The undeniable growth in urgency and importance of renewable energy is a result of an increased awareness of energy security and climate change mitigation. As one of the advocates and implementers of renewable energy projects in remote areas in Indonesia, CPI cannot be more excited to see this growth. We have received many queries about our work, especially after COPP26 in Glasgow, and we are also discovering many more initiatives from renewable energy innovators from all over the world.
We at CPI have recently participated in several lectures, seminars, and publications, not just to share what we have learned so far, but also to learn from our peers and audience. Here are some highlights of events with key takeouts and learnings.
1.Biogas for Future Conference by DiBiCoo
What is it about?
The Digital Global Biogas Cooperation (DiBiCoo) project is part of the EU's Horizon 2020 Societal Challenge 'Secure, clean and efficient energy', and is implemented by a consortium of 13 organizations from eight countries. The overall objective of the project is to prepare markets in Argentina, Ethiopia, Ghana, Indonesia, and South Africa for the uptake of sustainable biogas and gasification technologies from Europe. The Biogas for Future Conference was held online as well as offline in Bandung on 31 May 2022 in the form of a matchmaking event for key players from the biogas sector
What we learned
CPI was part of the expert panel and represented Indonesia. From the discussion and the Q&A sessions we realized that the current and future role and potential of biogas globally are significant, yet there are still challenges that need to be taken on legally, environmentally, and culturally. Also, we should avoid compartmentalising the desired impact and start seeing the production, distribution, and access of biogas as both benefiting the climate change mitigation and land restoration efforts as well as local economy and community prosperity
2. Sampoerna University General Lecture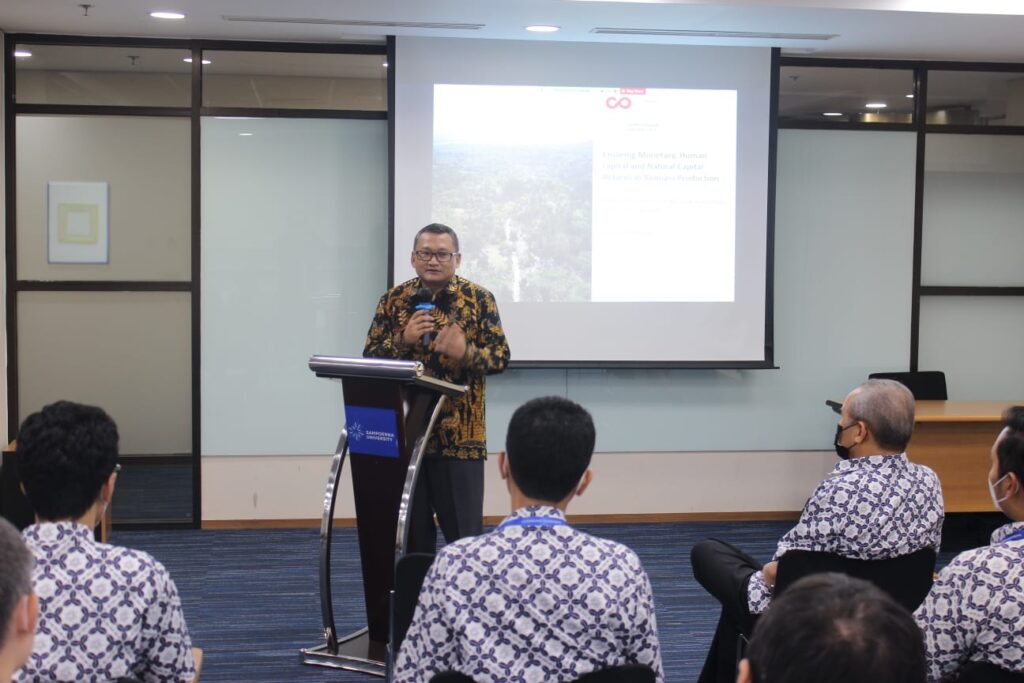 What is it about?
The rector of Sampoerna University, Dr. Wahdi Yudhi stressed the importance of research and development in the field of renewable energy. Students at Sampoerna University are provided the opportunity to get to know organizations and companies that are passionate about and focused on the clean and renewable energy transformation in Indonesia, and CPI is one of them. In September 2021, CPI's Jaya Wahono held a studium generale and signed an MoU with Sampoerna University to involve students in renewable energy research, especially technologies and systems that positively impact an ecosystem of energy production, environmental restoration, and economical growth
What we learned
After discussions with participants post lecture, we realized that many bright Indonesians who have come up with ideas and inventions based on their awareness about and concern for the environment remained below the radar and do not get enough attention and support to further develop their talents. We at CPI intend to contribute, and helping students at Sampoerna secure research training positions in the renewable energy sector is one of the first steps.
3.CIFOR-ICRAF's Book: Bioenergy for Landscape Restoration and Livelihoods
What is it about?
The Center for International Forestry Research and World Agroforestry (CIFOR-ICRAF) published a book that sets out ways to optimize the production of bioenergy on degraded land in the tropics, ensuring that, particularly in Indonesia, food security is not compromised and restoration of the vast areas of degraded land is financially viable. This book showcases insights and key findings relevant to Indonesia for the restoration of degraded land using bioenergy crops that help meet local, national, and international objectives.
What we learned
CPI contributed in this publication (chapter 14) and what we learned from other contributors and the publisher is that degraded land restoration has so far proved unattractive to investors at the scale necessary to achieve major impact. By displaying these findings, which include an overview of policies and initiatives in the recent decades, restoration efforts are not just financially viable, but also appealing.